ICF is a family run company that has been producing high quality, cost effective newsbags and safety products for more than three decades.
Based in Grimsby, the company was founded by the late Dennis Waterhouse and his late wife Valerie in 1982, and today is run by Managing Director Andrew Waterhouse the son of the founders.
The company has built up an enviable reputation for high quality production, great customer service, and prompt delivery. ICF has a considerable fund of knowledge on safety awareness issues and risk management, in line with current employer's legislation and are winners of the National Diamond Service Award sponsored by British Midland.

Our Newsbags are sold to major newspaper publishers throughout the UK, which means we supply hundreds of national, daily and weekly titles every week of the year.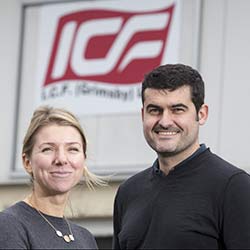 Most of our clients have been with us from the start and it is this kind of loyalty and support that continues to drive us forward. Our customer base includes many household names and well known brands such as; The Sun, Daily Mail Group, National Federation of Newsagents, TNT, Trinity Mirror and Martin McColl's to name just a few. We have made bags for the Royal Mint, Lord Sebastian Coe and even Rita Fairclough at the famous Kabin on Coronation Street.
As industrial sewing machinists we have also gathered a client list in many other areas of industry who use our expertise in the design and production of products used in Health and Safety areas such as; fire extinguisher covers, reusable vacuum bags, off-shore bags and covers for industrial as well as leisure purposes.
Feel free to call us or e-mail us with your product requirements or queries – we will get straight back to you with more information and a very competitive quotation!
Our reputation is built on technical excellence, quality products and outstanding customer support. — Andrew Waterhouse, MD